Stamps of the Kingdom of Italy
by Tony Clayton
---
Pneumatic Post Stamps
---
Parcel Stamps <<-- : -->> Postage Due Stamps
---
In Rome, Milan and Turin several Post Offices were linked by a pneumatic tube system, allowing rapid movement of mail around the cities for the payment of a supplementary fee.
---
First Issue, April 1913
---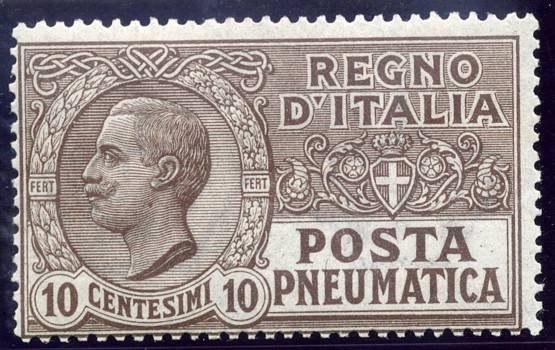 10c brown
Valid until December 1921.
Sassone 1
---
Second Issue, September 1921
---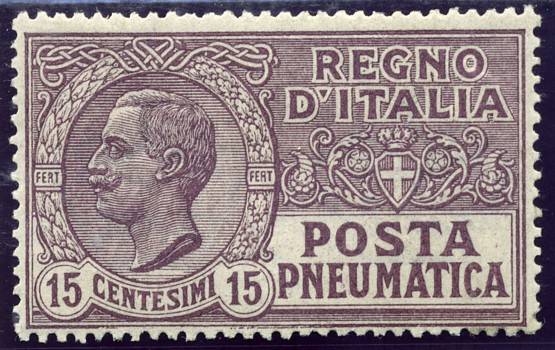 15c violet brown
Valid until June 1927.
Sassone 2
---
Third Issue, June 1923
---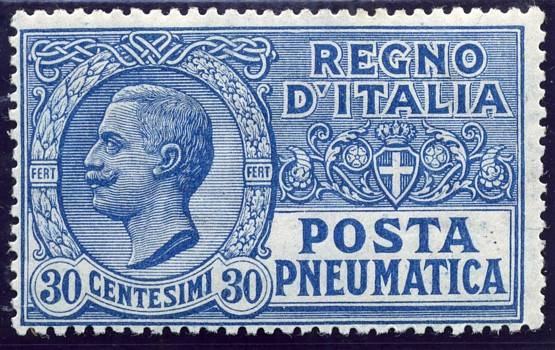 30c blue
Valid until June 1927.
Sassone 3
---
Fourth Issue, January 1924
---
Overprint to use up obsolete stocks of the 10c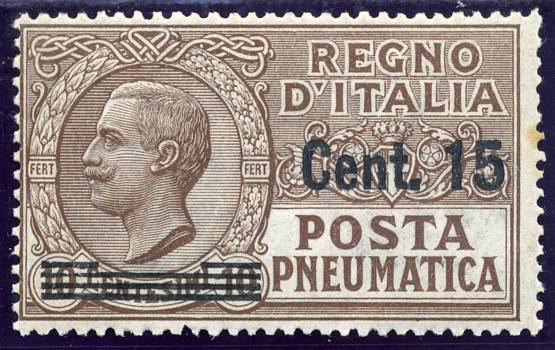 15c on 10c brown
Valid until June 1927.
Sassone 4
---
Fifth Issue, March 1925
---
Emergency issue reflecting an increase in pneumatic postage rates. All three valid until June 1927.
20c on 10c brown
Sassone 5
20c on 15c violet brown
Sassone 6

Displaced overprint
Sassone 6e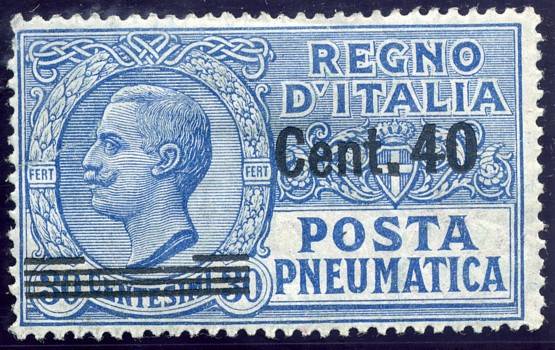 40c on 30c brown
Sassone 7
---
Sixth Issue, March 1925
---
Definitive issues for the new rates. Both valid until June 1927.
20c violet brown
Sassone 8

40c red
Sassone 9
---
Seventh Issue, June 1927
---
Reduction in Postage Rates resulted in another overprinted issue. Valid until June 1928.
15c on 20c violet brown
Sassone 10

35c on 40c red
Sassone 11
---
Eighth Issue, October 1927 (35c) and February 1928 (15c)
---
The 15c was issued in a new colour, lilac (lilla). However, a second printing in scarlet (rosso) caused confusion with the 35c, so a third colour, a reddish violet (violetto rosso), was printed. It is sometimes difficult to tell these apart, especially as CEI describes the three colours as lacca viola, scarlatto and viola granata! These stamps remained valid until December 1935.
15c scarlet
Sassone 12b

15c reddish violet (or lilac?)
Sassone 12a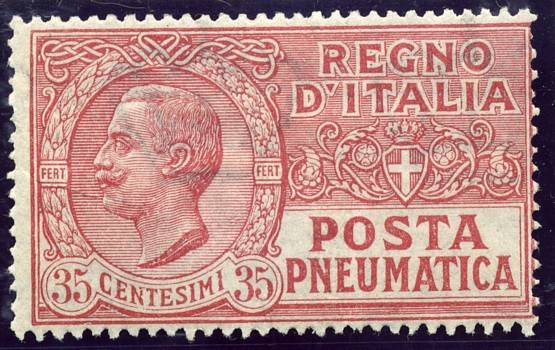 35c scarlet
Sassone 13
---
Ninth Issue, March 1933
---
After the move to the printers in Rome a switch was made from typography to photogravure, with a complete change in design.
15c dark violet
Sassone 14

35c red
Sassone 15
---
Tenth Issue, October 1945
---
This issue during the Lieutenancy of Umberto II had little practical use while the pneumatic system was restored to use after the war, and used copies are almost always favour cancelled. Emergency use on ordinary post is known and scarce. Note that the Arms of Savoy no longer have the fasces used on the previous issue.
60c brown
Sassone 16

1.40 lire grey-blue
Sassone 17
---
Parcel Stamps <<-- : -->> Postage Due Stamps
Main Italian Stamp Index
Kingdom of Italy Index
---
Stamps of Italy - Pneumatic Post issues
Copyright reserved by the author, Tony Clayton
v2 19th April 2015