Stamps of the Kingdom of Italy
by Tony Clayton
---
Parcel Stamps
---
Express Stamps <<-- : -->> Pneumatic Post Stamps
---
Parcel Stamps were first issued in 1884. For a while they were withdrawn, and then issued in a new format in 1914 as a pair of small stamps, one half of which is used for a receipt.
---
1884 Issue
10c Parcel stamp
Sassone P1

20c Parcel stamp
The key stamp of the set. Sassone P2

50c Parcel stamp
Sassone P3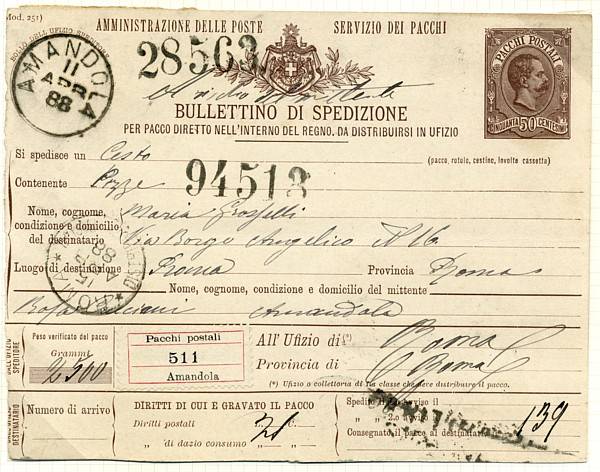 50 centesimi Parcel Card of the first 1888 issue from Amandola to Rome
This denomination was used for internal parcels to be collected from a Post Office
Pertile 1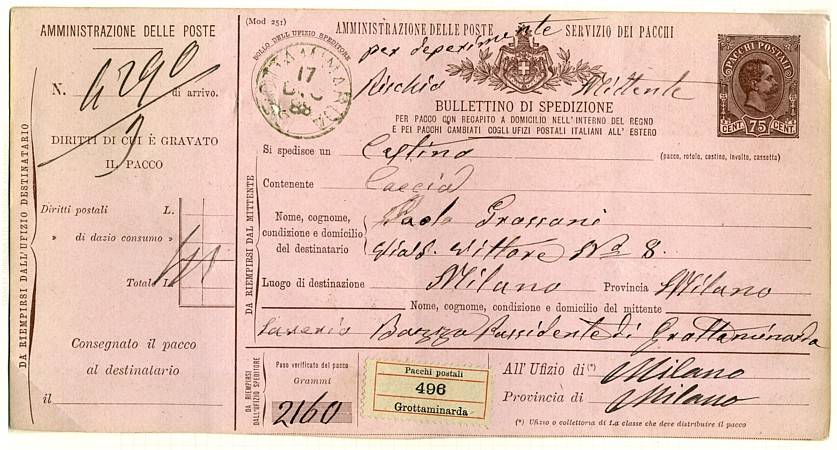 75 centesimi Parcel Card from Grottaminarda to Milan
This denomination was used for internal parcels to be delivered, or for overseas offices in Italian Colonies
Pertile 2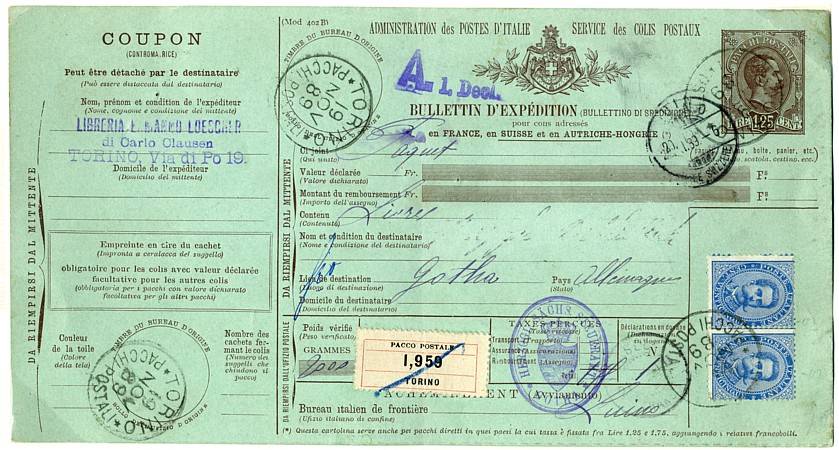 1l25 centesimi Parcel Card from Turin to Gotha in Germany
This denomination was used for addresses in France, Switzerland and Austria-Hungary. In this case it was uprated to the 1l75 required for Germany
Pertile 3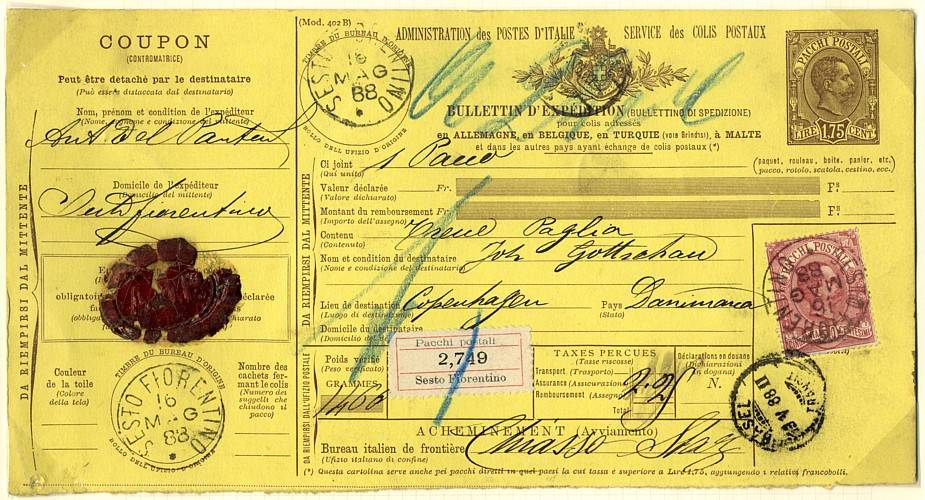 1l75 Parcel Card from Sesto Fiorentino to Copenhagen with additional 50c parcel stamp
It is very rare to find stamps from this set still on a parcel card. This style of card was for use with parcels going to Germany, Belgium, Turkey and Malta, and had to be uprated as it was going to Denmark.
Sassone P3, Pertile 4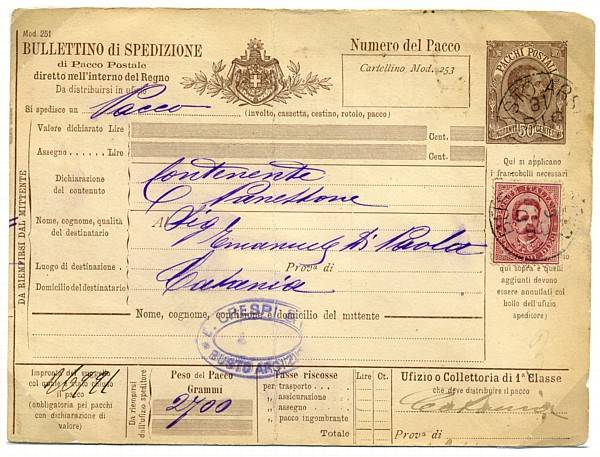 In 1889 a new style of card was introduced, with additional denominations
Pertile 6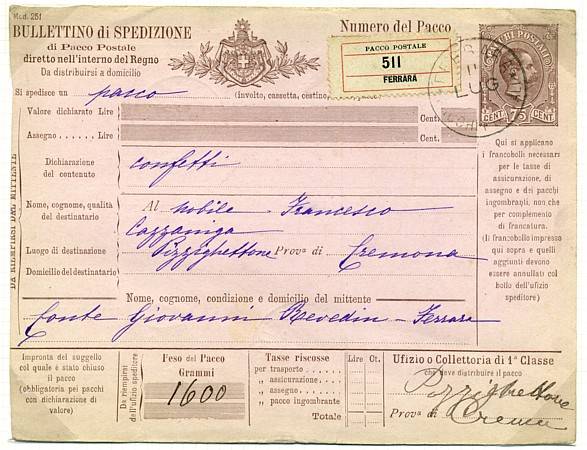 The new style 75c card
Pertile 7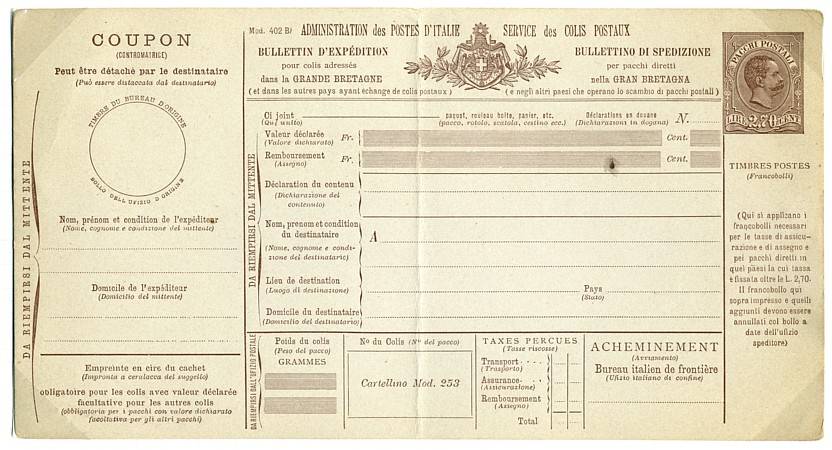 An unused copy of the 2l70 card used for parcels destined for Great Britain
Pertile 10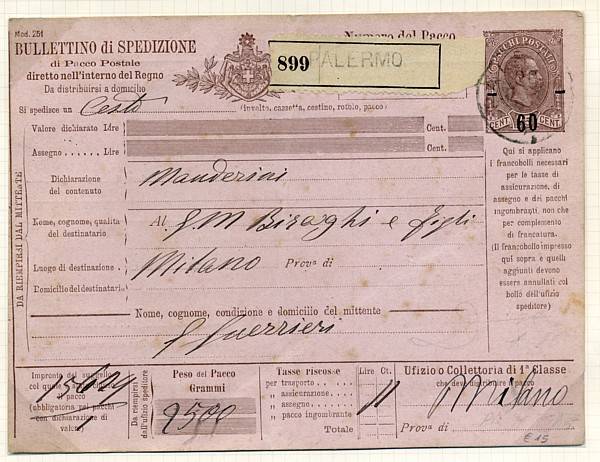 In 1890 the rates for internal delivery were amalgamated to
60 centesimi whether or not the parcel was delivered or collected from the Post Office.
An overprint was used before a new card was printed, and issued on 1st November 1890
Pertile 12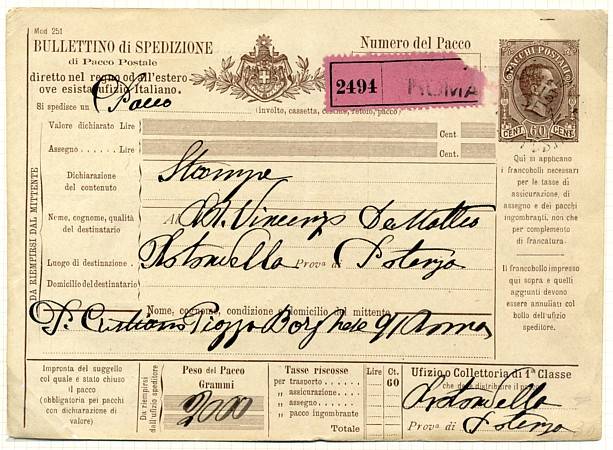 A 60 centesimi card was issued nine days later on 10th November 1890
Pertile 13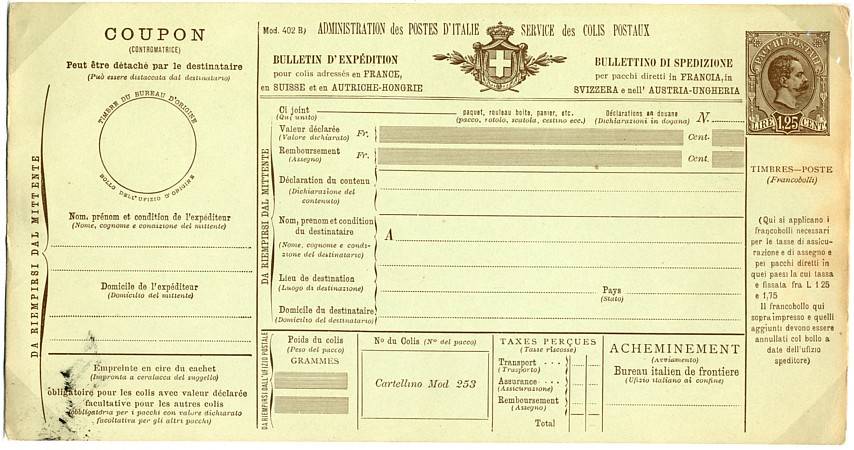 From September 1892 a new design with a modified coat of arms was introduced
Pertile 15
---
1914 Issues
The first issue of the two part stamp had scrolls with a line of three stars in between the two halves

20 lire deep purple, the top value of the 1914 set
Sassone P19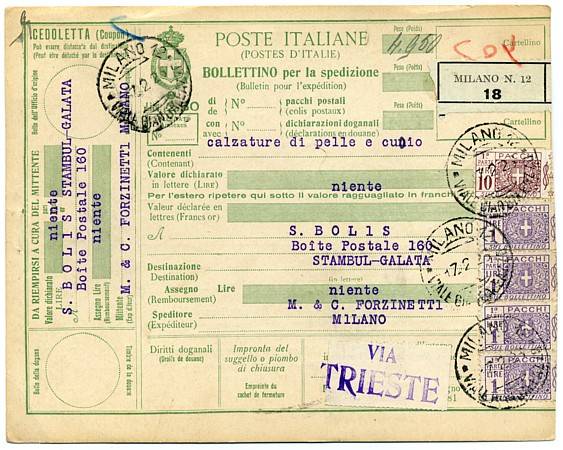 A 2l50 card uprated by 14 lire; the card is in a style first issued in 1923.
Pertile 32
---
1923 issue
The 5c was overprinted with three new denominations.

30c overprint on 5c brown
Sassone P20

60c overprint on 5c brown
Sassone P21

1 lire 50c overprint on 5c brown
Sassone P22
---
1925 Issue
The 10 lire was overprinted 3 lire. Quite why is not known.

3 lire on 10 lire pale purple
Sassone P20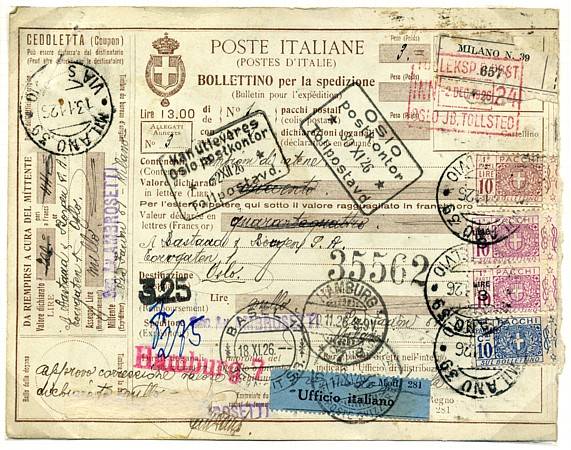 A scarce 13 lire card uprated by 16.10 lire using two examples of the 3 lire overprint as well as an unoverprinted 10 lire in a distinctly different shade.
Pertile 36
---
1927 Issues
With the arrival of a fascist government under Mussolini the scrolls were replaced by a pair of fasces separated by a dotted line with a flower at each end.

1 lire in the scarce lilac-brown shade
Sassone P30b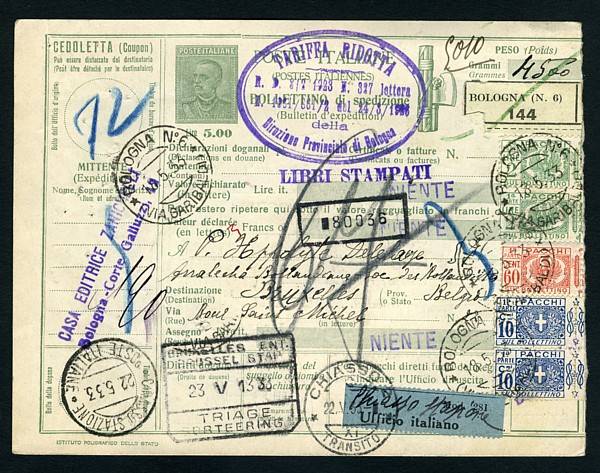 A later style card from Bologna to Brussels with both fascist and pre-fascist stamps
Sassone P8, P29 and P31, Pertile 55B
---
Insurance Stamps (Francobolli Assicurativi)
Starting in 1926 stamps were issued for insurance of parcels and registered letters. Their format was similar to the two-part parcel stamps of the period. They went out of use in 1945, losing validity by the end of 1947. Examples of all types are quite scarce.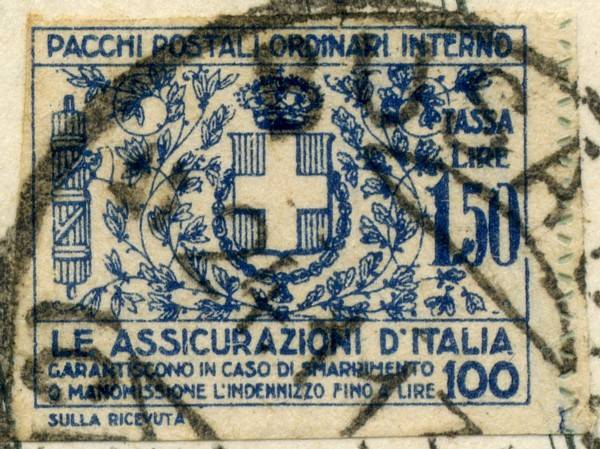 Used right half of 1.50 lire valid solely for parcels giving cover up to 100 lire
The stamp has zig-zag perfs that were clearly inadequate, so this example was cut from the sheet with scissors.
Sassone FA9
Used right half of 3 lire valid for parcels and registered letters.
1926, zig-zag perforations
Image courtesy of the Italy & Colonies Study Circle.
Sassone FA6

Used left half of 10 lire valid for parcels and registered letters.
1936, Normal perforations
Image courtesy of the Italy & Colonies Study Circle.
Sassone FA16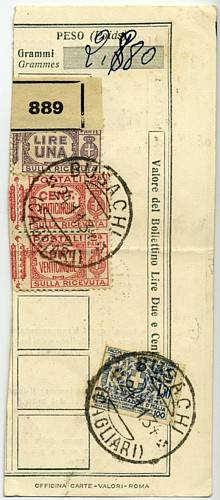 Receipt of 2.50 lire card with 1 lire and two 25c halves, as well as an insurance half.
Sassone P26 and P30, Pertile 54B?
---
1944 Social Republic Issue

20 lire overprinted REP SOC ITALIANA
This stamp saw little, if any, postal use, and genuine used examples are exceedingly rare
Sassone P47
---
1945 Fasces Obliterated Issue
With the fall of the fascists, there was a need to remove the fasces from the stamps. Initially an ornate obliterator was overprinted on them.

20 lire overprinted centrally
Sassone P59
---
1946 No Fasces Issue
Six parcel stamps were issued during the brief reign of Umberto II prior to the formation of the Republic

20 lire lilac brown
Sassone P65
---
Express Stamps <<-- : -->> Pneumatic Post Stamps
Main Italian Stamp Index
Kingdom of Italy Index
---
Stamps of Italy - Parcel stamps
Copyright reserved by the author, Tony Clayton
v11 19th April 2015