Stamps of the Kingdom of Italy
by Tony Clayton
---
Postage Due Issues
---
Pneumatic Post Stamps <<-- : -->> BLP Stamps
---
First Issue - January 1863
In normal use the first postage due stamps were affixed by the postman on delivery, and were not cancelled. As a result uncancelled stamps are not uncommon, and you can only describe such a stamp as mint if it has full original gum. From February 1869, one month before its replacement came out, cancellations were required.
10c yellow, uncancelled
Sassone 1

10c orange, cancelled
Sassone 1b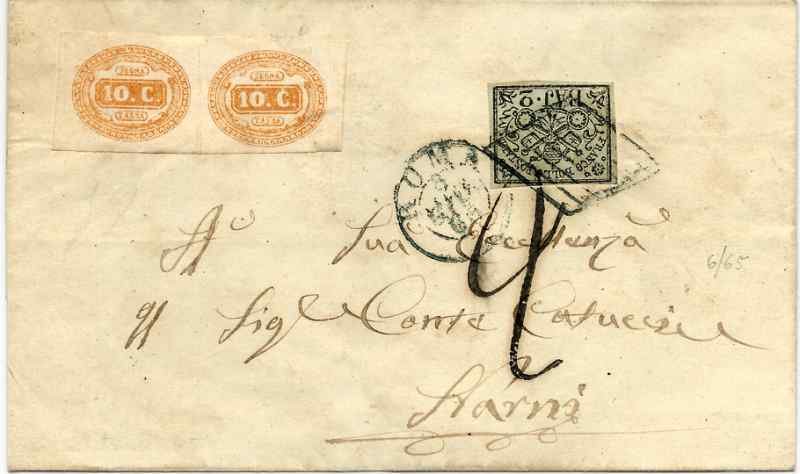 Two 10c orange on cover, uncancelled as usual, on cover fom Rome to Narni
Sassone 1. Courtesy of Italy & Colonies Study Circle
---
Second Issue - March 1869
This stamp is rare on cover cancelled in 1869. The first known date of use is 27th April.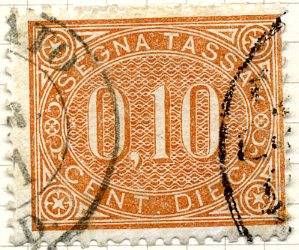 10c brown-orange
Sassone 2
---
Third Issue - 1870
What is often called the numeral series was first issued with the low values (1c, 2c, 5c, 10c, 30c, 40c, 50c, 60c) in ochre with carmine numerals, and the high values (1l, 2l, 5l, 10l) in blue with brown numerals.
The 1c and 2c ceased to be used during 1890, when the remaining low values plus a new 20c value were issued in orange and carmine. That said, the shades vary enough to make the distinction difficult. At the same time the 1 and 10 lire were issued with red numerals instead of brown. The 2 and 5 lire followed suit in 1903.
Finally, in 1924 the 60 lire was issued with brown numerals; the numerals are redder than on the early high values.
The entire series was withdrawn in 1935 following the issue of the fascist types in 1934.
Inverted numerals are not too rare as such errors were not considered a problem for tax stamps.
30c orange and carmine, inverted centre
Sassone 23a

10 lire blue and brown, inverted centre
Sassone 14b
Image courtesy of the Italy & Colonies Study Circle.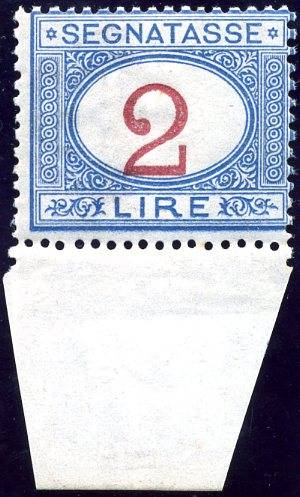 2 lire blue and carmine
Sassone 29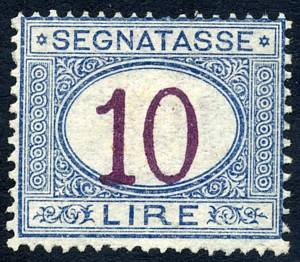 Forged 10 lire blue and carmine.
The figures are clearly not as sharp as they should be, nor is the colour right.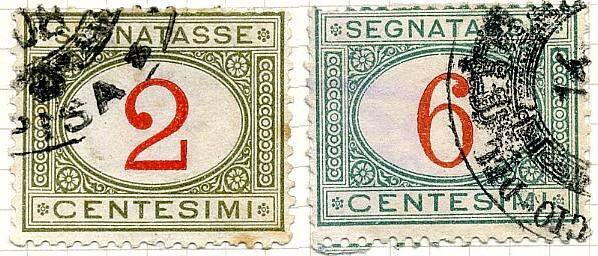 2c olive and scarlet and 6 cent green and scarlet
These are fiscal stamps and were not used for postal purposes.
---
High Value Issues - 1884 and 1903
These four stamps were used for internal Post Office accounting purposes and are therefore not found on cover.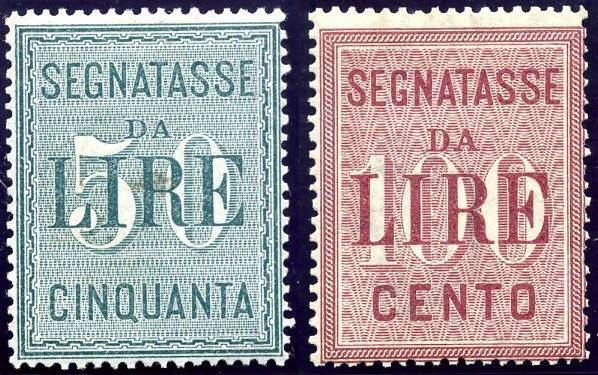 50 lire green and 100 lire red
Sassone 15 and 16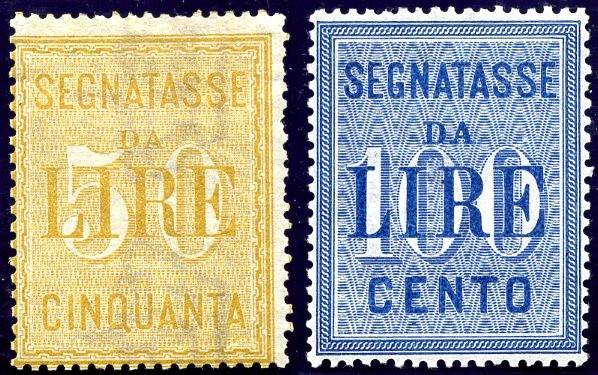 50 lire yellow and 100 lire blue
Sassone 31 and 32
---
Overprinted Issues - 1890-1
As stocks of the 1c and 2c were no longer required, they were overprinted to give more useful denominations. These stamps are difficult to find in mint state, especially the 30c on 2c which is rare. The Italians call them 'mascherine' or 'little mask' issues.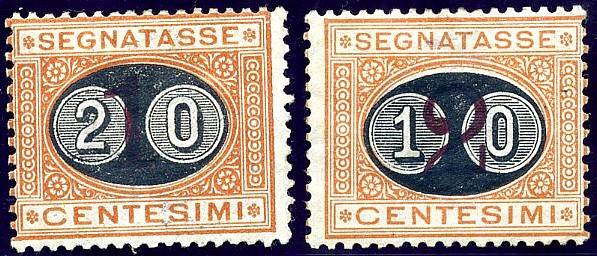 20c on 1c and 10c on 2c
Sassone 18 and 17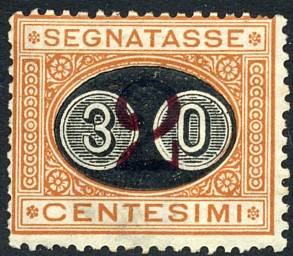 30c on 2c
Sassone 19
---
Fascist Issues - 1934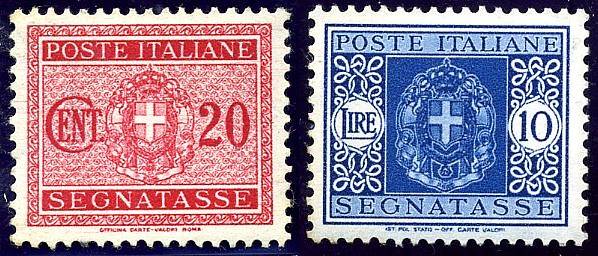 20c carmine and 10 lire blue
Sassone 36 and 45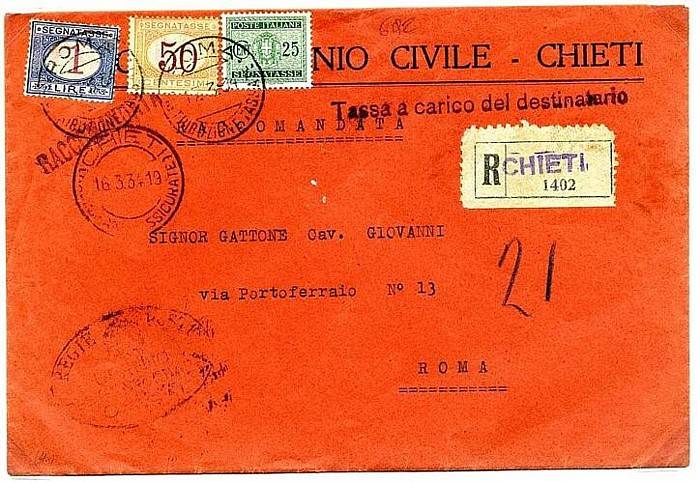 Mixed franking just six weeks after first issue of the new design.
Official letters often had to have the postage paid by the addressee
---
Non-Fascist Issues of the Lieutenancy of Umberto II - 1945
These were issued first without and then with a watermark.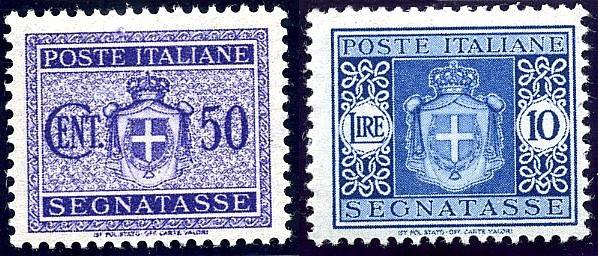 50c violet and 10 lire blue, watermark Winged Wheel I
Sassone 90 and 95
---
Pneumatic Post Stamps <<-- : -->> BLP Stamps
Main Italian Stamp Index
Kingdom of Italy Index
---
Stamps of Italy - Postage Due Issues
Copyright reserved by the author, Tony Clayton
v8 28th March 2017