Stamps of the Kingdom of Italy
by Tony Clayton
---
Italo-German Friendship Issue of 1941.
---
1934 World Cup Football Issue <<-- : -->> Airmail Stamps
---
In 1941 a number of issues celebrating the friendship between German and Italian forces were made throughout the Italian Empire. The original idea was to issue 6 stamps of the same design, but in the end only the top three values (50c, 75c and 1.25 lira) were issued on 30th January. The decision was made to issue the three lower values in a different design, and this took place on 2nd April. However, some sheets of the three low values in the original design were made available to the public at the Philatelic Bureau. The 10c is known used on a commercial cover.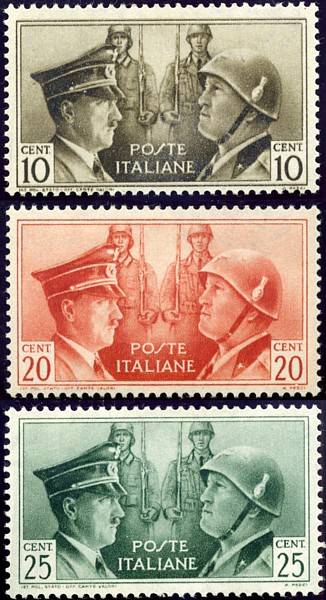 10c, 25c and 25c in the unissued design
Sassone 457A, 457B and 457C
25c in the issued design
Sassone 454
---
During the Second World War imitations of two stamps in this series were made which were a caricature of the original. Printed in England, they are quite scarce.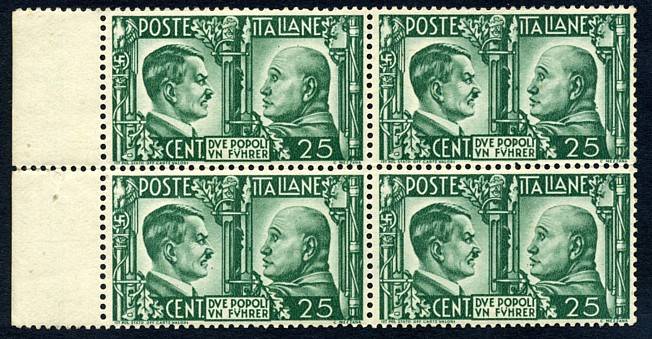 Block of 4 of the imitation 25c
Sassone IG454
---
1934 World Cup Football Issue <<-- : -->> Airmail Stamps
Main Italian Stamp Index
Kingdom of Italy Index
---
Stamps of Italy - 1941 Italo-German Friendship Issue
Copyright reserved by the author, Tony Clayton
v4 19th April 2015