Varieties in the Postage Stamps of Italy
by Tony Clayton
---
Italian Road Safety Issue
---
The Italian Road Safety issue of 1957 comes in two main types. The black of the outline of the traffic lights is created by the simultaneous printing of the red and green.
In the first printing the red went up to the edge of the design, but any misalignment would produce a red edge to the lights.
In subsequent printings the red was reduced in size so that the black areas of the traffic lights appear, on close examination, to have green outlines.
---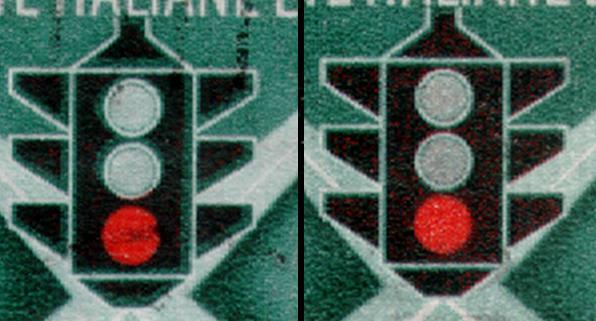 The left hand side shows the modified printing (Sassone 815), the right hand side the original (Sassone 815/I)
---
Back to the Italian Varieties Index
Up to the Main Index
---
Stamps of Italy - Traffic Lights issue of 1957
Copyright reserved by the author, Tony Clayton
v3 15th May 2015