Varieties in the Postage Stamps of Italy
by Tony Clayton
---
Aegean (Egeo) Issues
---
After the occupation of the Dodecanese Islands by Italy in 1912 stamps were issued for 13 of the islands by overprinting with the name of the island. In June 1917 a new value was introduced, using the initial type of the 20c Michetti design without watermark. This stamp is perforated 13.25 instead of that of the main issue in Italy which had a perforation of 13.25x13.75 (the perf 13.25 stamp unoverprinted can be found, but is a little scarce).
In about 1921 this was replaced by a similar stamp, this time with a crown watermark and perforation 14. A further aid to telling which is which is that the perforations on the first of these two issues are clean and sharp, while on the second they appear tattier. It seems that not only is the gauge larger, but so are the perforation holes.
Leros 20c without watermark
Sassone 9.

Leros 20c with watermark
Sassone 11.
---
An unusual variety that is difficult to find is the 40c of Lipso, Nisiro, Piscopi and Stampalia with the top of the design missing (mancante in Italian). That of Stampalia is only known used, I believe. It is uncertain as to how this came about on only part of the printing. The variety is not known unoverprinted.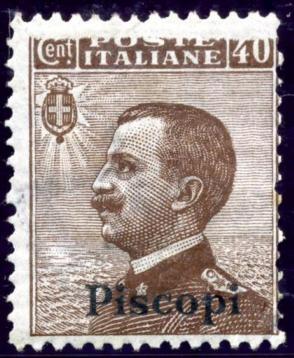 Piscopi 40c with top of design missing
Sassone 6a.
---
A not uncommon variety is an offset overprint (decalco in Italian). This results in a reversed image on the back.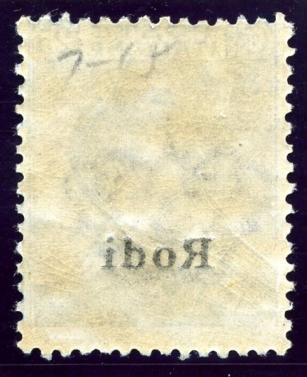 Rhodes 25c with offset overprint
Sassone 5g.
---
In 1934 a new Air Mail design was issued for general use amongst the Aegean Islands. It was originally issued with upright watermark, but later printings appeared with a sideways watermark. Of these one has Perf 14.25 and the last Perf 14.
For some reason, while used copies of the 5c with sideways watermark are very common, mint examples of the third printing are extremely rare, and one found in an old collection amongst a number with upright watermark is illustrated.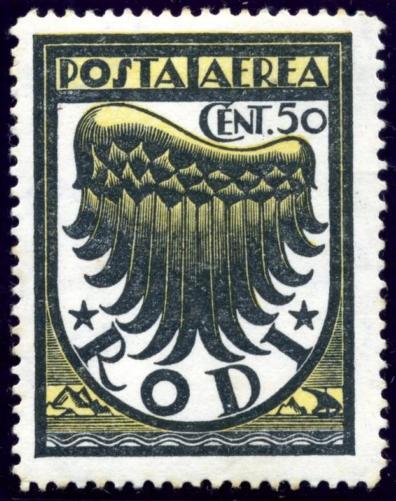 Aegean 5c Air Mail, sideways watermark, perf 14,
mounted mint condition, very rare
Sassone A30/I.
---
Back to the Italian Varieties Index
Up to the Main Index
---
Stamps of Italy - Aegean varieties
Copyright reserved by the author, Tony Clayton
v4 18th May 2015