Stamps of the Kingdom of Italy
by Tony Clayton
---
Volta issue of 1927
---
1926 St.Francis Issue <<-- : -->> 1928 Filiberto Issue
---
The 20c, 60c and 1.25 lire stamps were issued in March and April 1927. Due to a postage rate change the 50c was issued in September. All four stamps are known with the crown watermark facing either left or right.
The 20c is normally carmine. Versions overprinted for use in the colonies were printed in different colours, and unoverprinted copies of the 20c in violet are known.
The 50c is known with a dot after the 50. This is found in position 42 in three of the four blocks of 60 that make up the sheet.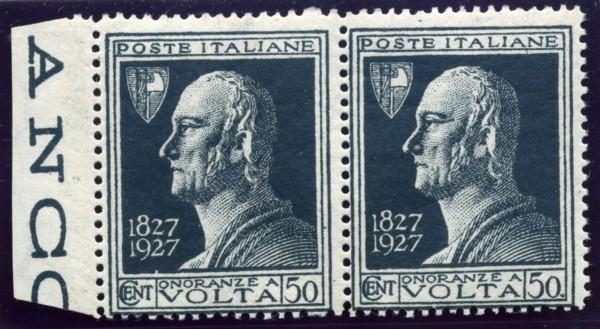 Dot after 50 variety in pair with normal
Sassone 211/211i.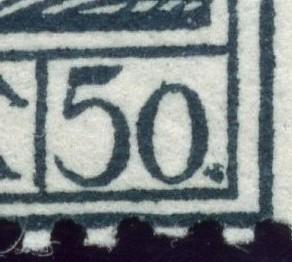 Detail of dot after 50
50c with distinct perforation shift
Commemorative Postcard
Because of abuse of the facility, stamped-to-order postcards were invalidated after 1903. However, two cards did get permission after that date: one in 1906 for the Milan Exhibition, and this one in 1926 in honour of Volta.
Pertile 60
---
1926 St.Francis Issue <<-- : -->> 1928 Filiberto Issue
Main Italian Stamp Index
Kingdom of Italy Index
---
Stamps of Italy - 50c Volta varieties
Copyright reserved by the author, Tony Clayton
v7 19th April 2015