Stamps of the Kingdom of Italy
by Tony Clayton
---
Michetti Definitive Issues.
---
The Floreale Definitive issues <<-- : -->> The Leoni Definitive issues
---
Right-facing portrait - 15c grey-black
On the reduction in the letter postage rate from 20c to 15c in 1905 required the production of a new stamp. Initially the existing 20c was overprinted 15c, but on 20th March 1906 a new stamp designed by F.Paolo Michetti was issued. This was printed at the Officina Calcographica Italiana as the government printing works was unable to print recess.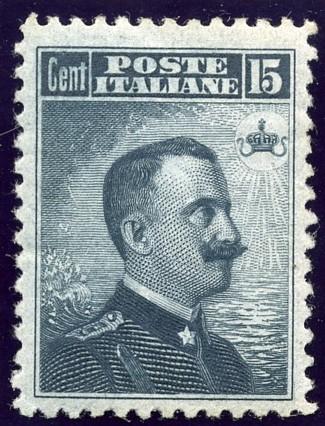 15c blackish grey, recess, Perf 12.
Design 18½x25 mm
Sassone 80.
When further quantities were required in 1909 the government press in Turin was still unable to use recess, so letterpress was used. By 1911 suitable presses were installed and a third variant using recess was issued.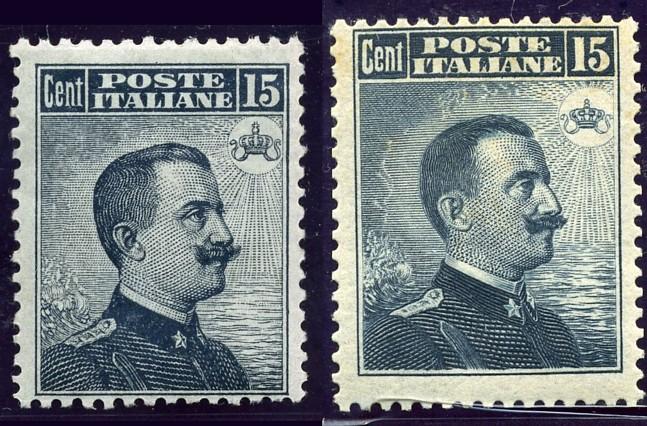 Left: 15c blackish grey, typographed, Perf 13¼x14. Design 18x23 mm. Sassone 86.
Right: 15c blackish-grey, recess, Perf 13½x14. Design 19x24 mm. Sassone 96
---
Right-facing portrait - 20c orange
In 1916 the letter postage rate went back up from 15c to 20c. Initially the existing 15c was overprinted CENT 20, but on 8th December 1916 a 20c stamp in the same design was issued.
The first type is without watermark, and perforated 13¼x13¾, although copies with perf 13¼ are known from sheets printed for overprinting for use in China and the Aegean. In October 1917 the stamp was reissued with crown watermark and perforated 14. Copies with this perforation are known without watermark from sheets so far displaced that marginal copies miss the crown watermarks.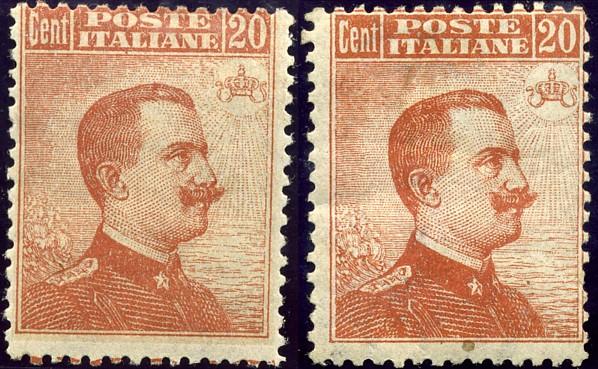 Left: 20c orange, typographed, no watermark, Perf 13¼x13¾. Sassone 107.
Right: 20c orange, watermark crown, Perf 14. Sassone 109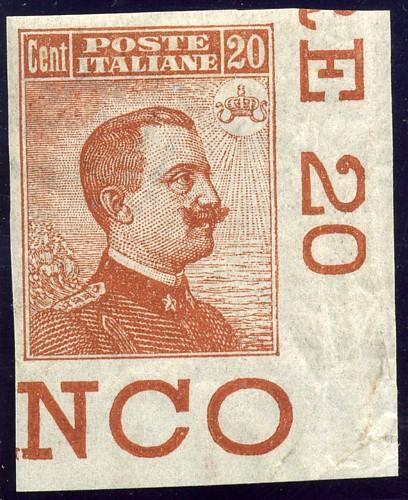 20c orange, watermark crown, imperforate. Sassone 109d
---
Left-facing portrait
Versions with a left-facing portrait were first issued in 1908, and many variations in colour and denomination continued until 1927.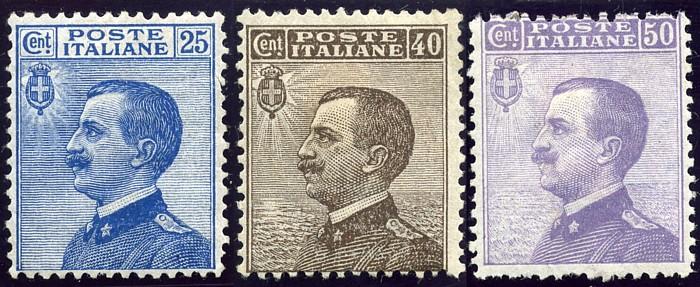 25c blue, 40c brown and 50c violet, issued 1st January 1908
Sassone 83, 84 and 85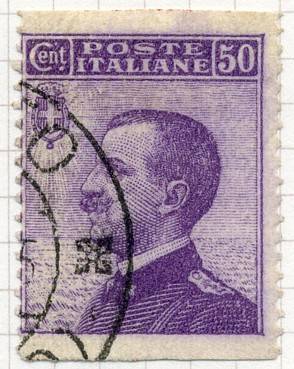 50c violet, imperforate horizontally
Sassone 85 unlisted variety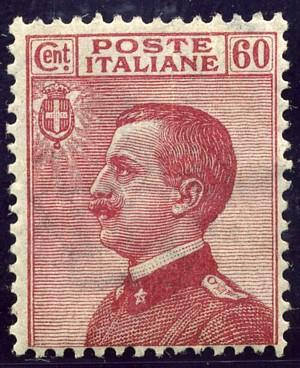 60c carmine, issued January 1918
Sassone 111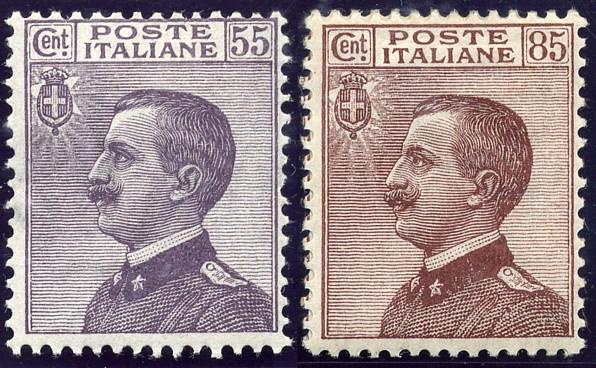 55c violet-brown and 85c red-brown, issued December 1920
Sassone 110 and 112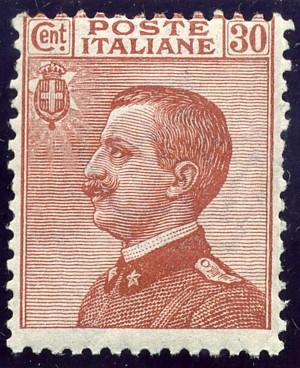 30c orange-brown, issued September 1922
Sassone 127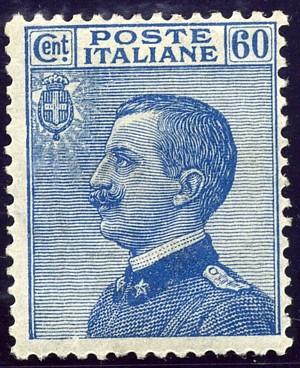 60c blue, issued 17th December 1923
Sassone 157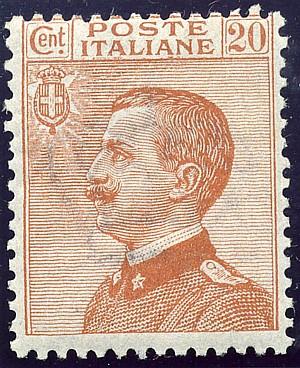 20c brown-orange, issued 20th March 1925
Sassone 157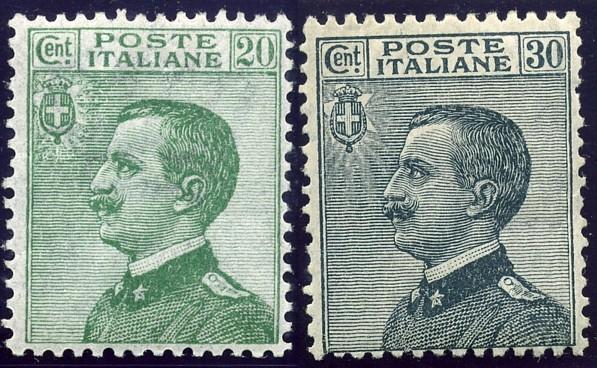 20c green, issued June 1925, and 30c grey, issued August 1925
Sassone 184 and 185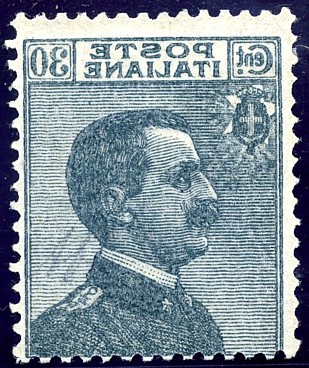 30c grey, offset image on reverse
Sassone 185g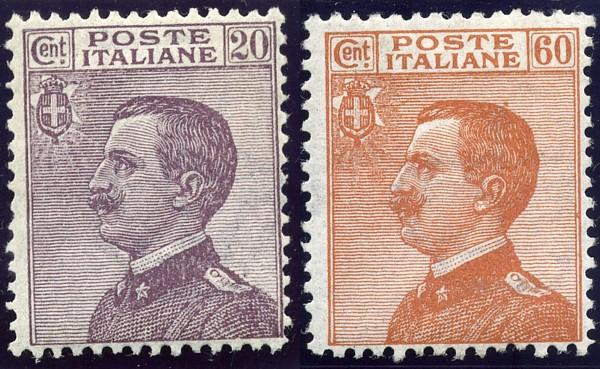 20c brownish-violet and 30c brownish-yellow, issued July 1926
Sassone 204 and 205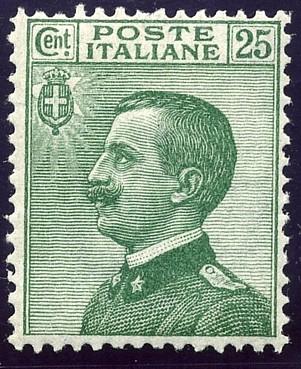 25c green, issued 21st August 1927
Sassone 219
---
The Floreale Definitive issues <<-- : -->> The Leoni Definitive issues
Main Italian Stamp Index
Kingdom of Italy Index
---
Stamps of Italy - Michetti Issues
Copyright reserved by the author, Tony Clayton
v5 28th January 2016