Stamps of the Kingdom of Italy
by Tony Clayton
---
Filiberto Alighieri Issue of 1928.
---
1927 Volta Issue <<-- : -->> 1934 World Cup Football Issue
---
Between July and September 1928 10 stamps were issued to commemorate the 400th anniversary of the birth of Emanuele Filiberto (1528 to 1580), Duke of Savoy, who recovered his lands from the French.
The three lowest values, 20c, 25c and 30c, all occur with two perforations, 11 and 13¾, both line. The latter is scarcer in all three cases, the 20c particularly so. The quality of perforation for the perf 13¾ stamps is usually poor. Very scarce mixtures of the two perforations are known.
The Lire 1.25 value is usually perf 14 comb, but a very rare perf 13¾ line is also known.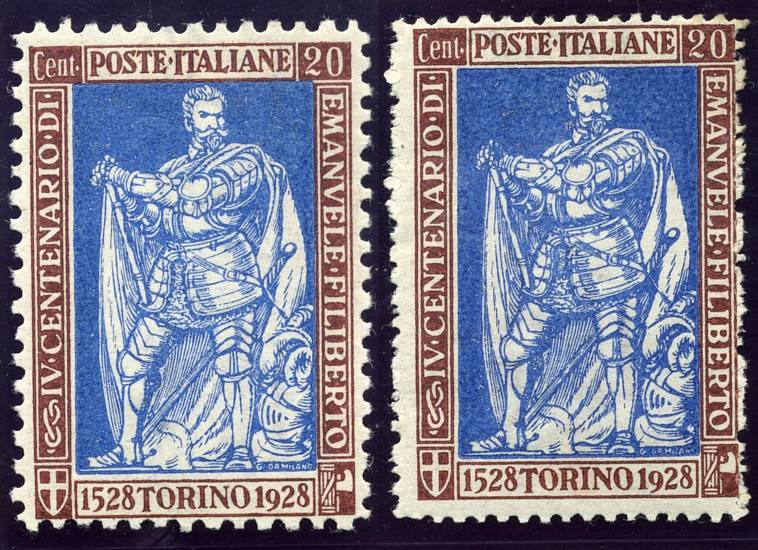 20 centesimi brown and ultramarine, Perf 11 and 13¾
Sassone 226 and 230.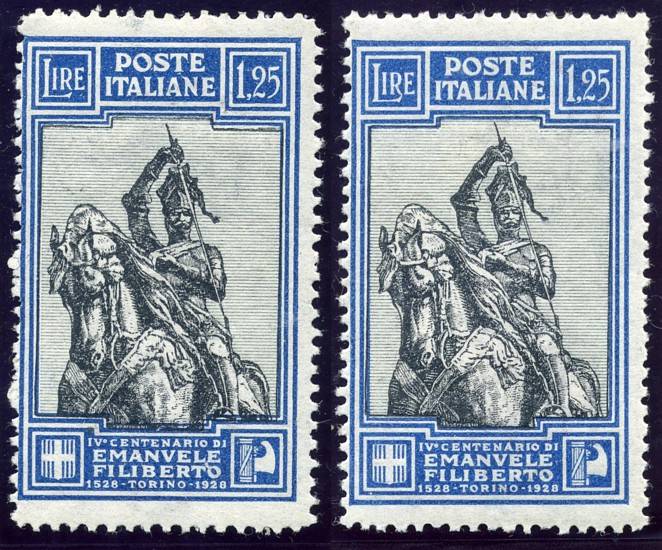 Lire 1.25 blue and black, Perf 13¾ line and 14 comb
Sassone 235/I and 235.
---
1927 Volta Issue <<-- : -->> 1934 World Cup Football Issue
Main Italian Stamp Index
Kingdom of Italy Index
---
Stamps of Italy - 1928 Filiberto Issue
Copyright reserved by the author, Tony Clayton
v3 19th April 2015