Stamps of the Kingdom of Italy
by Tony Clayton
---
Dante Alighieri Issue of 1921.
---
1915 Red Cross Issue <<-- : -->> Victory Issues
---
On the 28th September 1921 three stamps were issued to commemorate the 600th anniversary of the death of Dante: 15c brownish lilac; 25c green; 40c brown.
The 15c is also known in grey (scarce, especially if it has well centred perforations) and violet-grey (rare). These were not issued for postal use.
15c brownish lilac
Sassone 116.

Unissued 15c grey
Sassone 116A.

25c green
Sassone 117.

40c brown
Sassone 118.
---
The issue is also known imperforate. These are not particularly rare.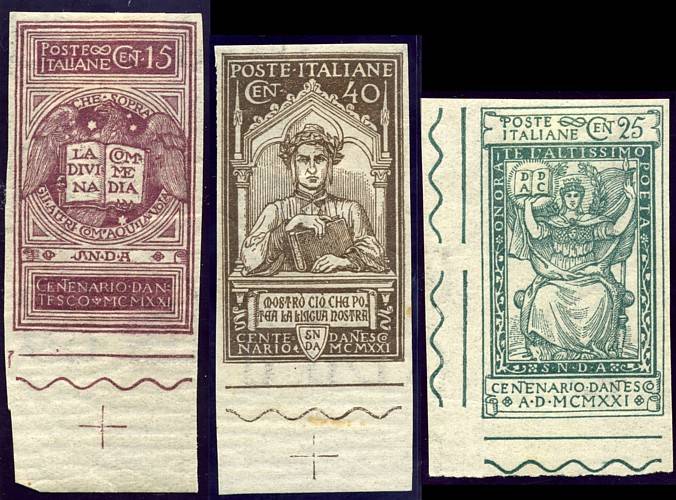 Imperforate examples
Sassone 116f-118f.
---
1915 Red Cross Issue <<-- : -->> Victory Issues
Main Italian Stamp Index
Kingdom of Italy Index
---
Stamps of Italy - 1921 Dante Issue
Copyright reserved by the author, Tony Clayton
v4 28th January 2016