Stamps of the Kingdom of Italy
by Tony Clayton
---
Silver Jubilee Issue of 1925-6
---
1923 Propaganda Fide Issue <<-- : -->> 1926 St.Francis Issue
---
In June 1925 two stamps were issued for the Silver Jubilee of King Victor Emmanuel III. The 60 centesimi was in carmine and the 1 lira in blue. Due to a change in postal rates the 1.25 lire, also in blue, was issued in January 1926.
All three stamps come in two perforations: Perf 11 and Perf 13½. The stamps were usually without watermark, although those near the edge of the sheet could sometimes have letters from the marginal inscription, or crowns, also from the margin.
In mint condition the 1.25 lire perf 11 is very scarce, and it is also difficult to find in used condition.
---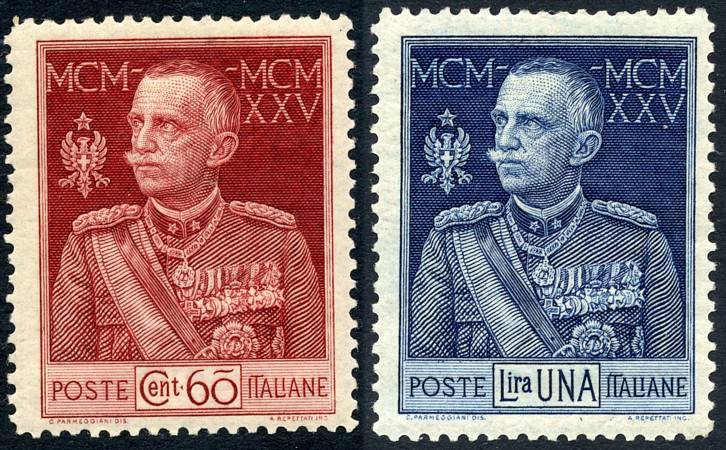 60c and 1 lira, perf 13½
Sassone 186 and 187.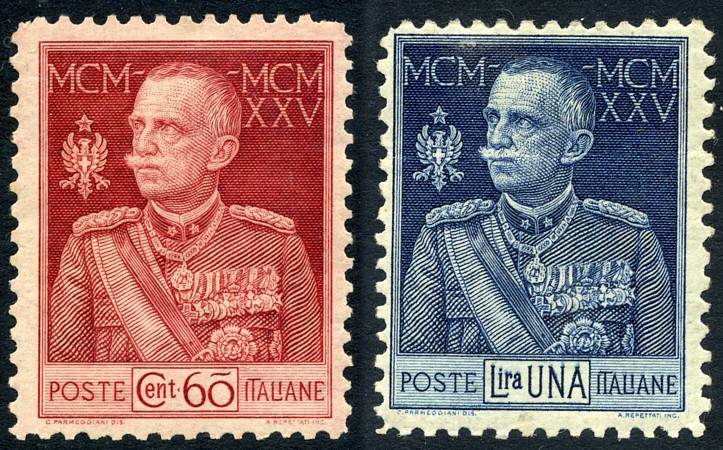 60c and 1 lira, perf 11
Sassone 189 and 190.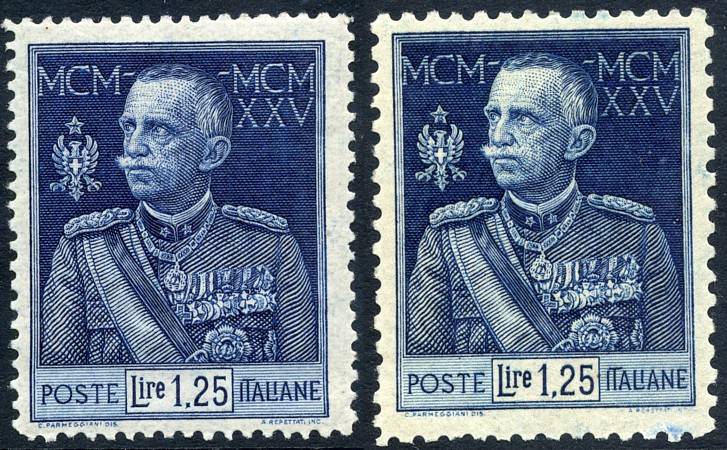 1.25 lire perf 13½ and perf 11
Sassone 188 and 191.
1 lira, perf 11, watermark letters
Part of MINISTERO in reverse down the left side
Sassone 190c.

1 lira perf 13½, watermark crown
Sassone 187d.
---
1923 Propaganda Fide Issue <<-- : -->> 1926 St.Francis Issue
Main Italian Stamp Index
Kingdom of Italy Index
---
Stamps of the Kingdom of Italy - Silver Jubilee issue
Copyright reserved by the author, Tony Clayton
v2 18th April 2015