Postage Stamps of Italian Colonies
by Tony Clayton
---
Eritrea
---
Jubaland <<-- : -->> Aegean Islands
---
First Definitive Issue, 1893
---
Stamps of Italy overprinted Colonia Eritrea were first issued in January 1893. In mint condition the 5c, 10c, 20c and 25c are amongst the scarcest stamps of Eritrea.
1c and 2c
Sassone 1 and 2

5c and 10c
Sassone 3 and 4

20c and 25c
Sassone 5 and 6

40c and 45c
Sassone 7 and 8
60c and 1 lira
Sassone 9 and 10
There is also a 5 lire carmine and blue.
---
Second Definitive Issue, 1895-1899
---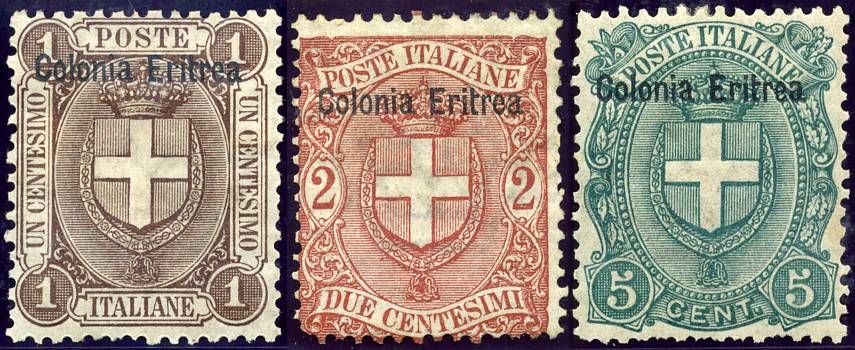 1c, 2c and 5c
Sassone 12, 13 and 14
10c and 20c
Sassone 15 and 16

25c and 45c
Sassone 17 and 18
---
Third Definitive Issue, 1903
---
On the Accession of Victor Emmanuel III a new definitive set was issued.
1c with inverted overprint
Sassone 19c

5 Lire
Sassone 29
---
Fourth Definitive Issue, 1905
---
A reduction in the basic letter rate from 20c to 15c resulted in an overprinted stamp issued from November 1905.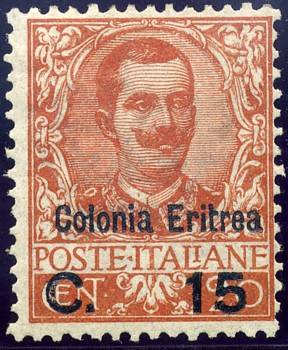 15c on 20c orange
Sassone 30
---
Fifth Definitive Issue, 1908-9
---
New designs were used to produce further values. On some values the position of the overprint varied between different printings.
5c with low (normal) and high overprint
Sassone 31 and 31a

10c with low (normal) and high overprint
Sassone 32 and 32a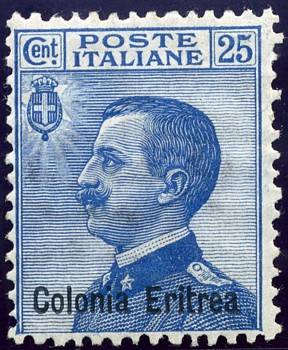 25c blue
Sassone 33
---
African Views
---
A set of four values was issued between 1910 and 1914. In mint state the 15c is very scarce with the initial Perf 13¼. One reason that it is such short supply is that this denomination was overprinted with alternative values.
This denomination shows the Governor's Palace in Massaua.
15c Perf 13¼
Issued from 16th Oct 1910
Sassone 36.

15c Perf 11
Issued from April 1929
Sassone 131.

5c on 15c overprinted in Asmara
Issued from December 1916
Sassone 45.

20c on 15c overprinted in Turin
Issued from June 1916
Sassone 46.
---
Sixth Definitive Issue, 1916
---
Three further values were issued in 1916. The 10 lire olive and rose is scarce, especially used.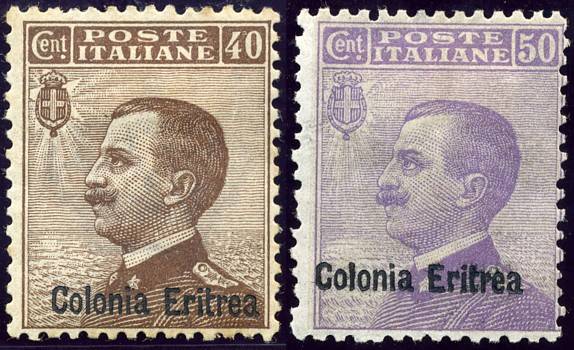 40c brown and 50c violet
Sassone 38 and 39
---
Red Cross Issue, 1916
---
The Red Cross issue of 1916 used the Italian stamps overprinted ERITREA in small capitals. Position 48 on the sheet had the tail of the first R missing.
10c + 5c red, EPITREA error, in pair with normal
Sassone 41 & 41f issued in April 1916

20c + 5c orange, EPITREA error
Sassone 44f issued in June 1916
---
Seventh Definitive Issue, 1918-20
---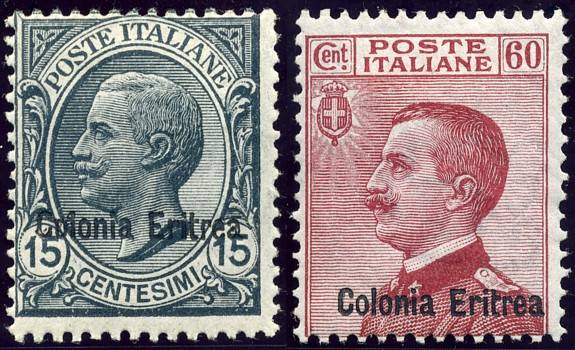 15c grey and 60c carmine
Sassone 47 and 48
---
Further Victor Emmanuel III Definitive Series
---
The initial set was issued in 1903 overprinted Colonia Eritrea. However, over the next few years both existing and new values were overprinted in a variety of styles including Eritrea and ERITREA, the latter in both small and large capitals.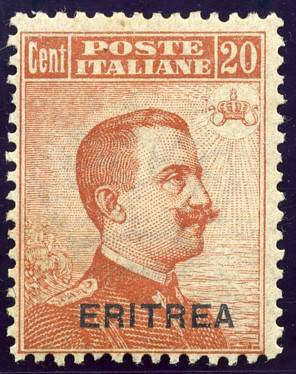 20c orange
Sassone 49 issued in September 1921.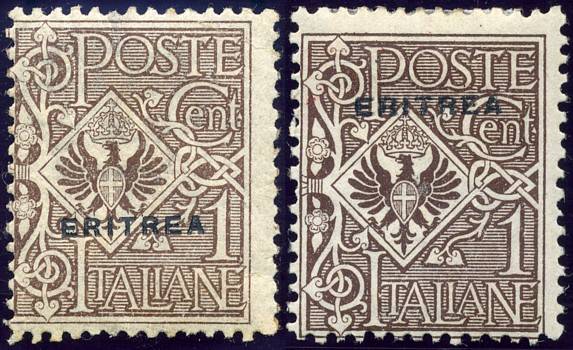 1c brown with small ERITREA, with scarce high setting
Sassone 77 and 77b issued in May 1924.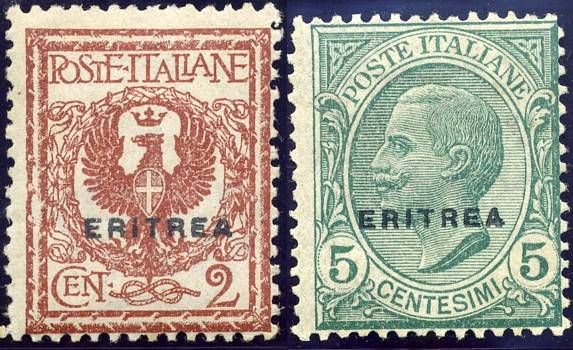 2c red-brown and 5c green with small ERITREA
Sassone 78 and 79 issued in July 1924.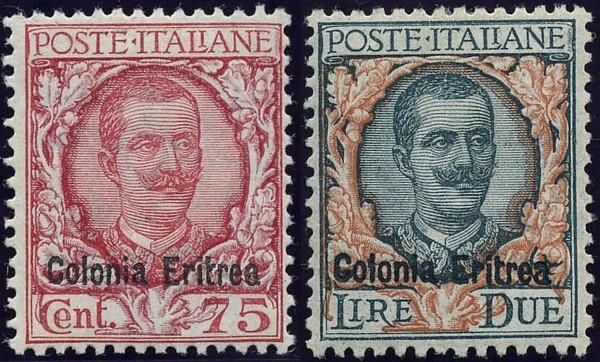 75c and 2 Lire overprinted Colonia Eritrea
Left: Sassone 125 issued in 1928.
Right: Sassone 95 issued July 1925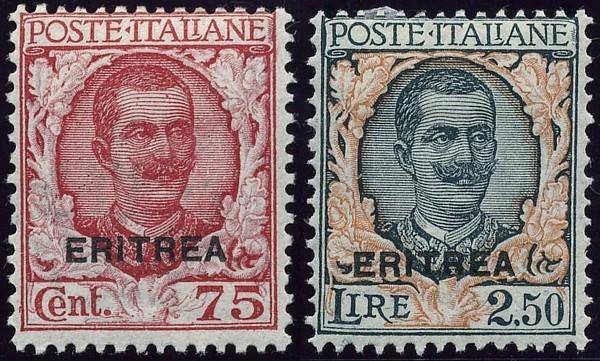 75c and 2 Lire 50c overprinted ERITREA in large capitals
Left: Sassone 113 issued in July 1926.
Right: Sassone 115 issued July 1926
The latter comes in myrtle-green and light orange, only issued in Rome, and grey and orange (shown) issued in the Colony. Both are equal in value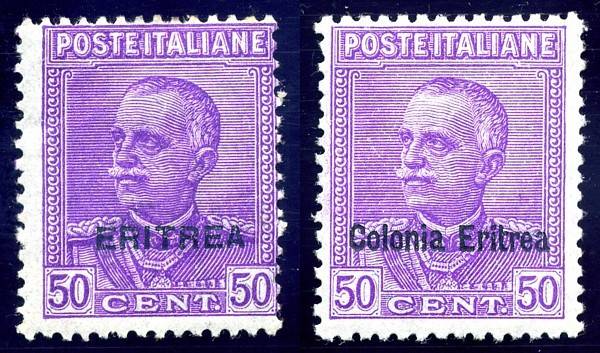 50c overprinted in the two styles
Left: Sassone 136 issued on 12th November 1928.
Right: Sassone 143 issued in August 1929
Both are scarce, with the later stamp being slightly rarer.
---
Overprinted Stamps of Somalia, 1922 and 1924
---
In 1922 seven stamps of Somalia were overprinted ERITREA in black. Two years later a second series was overprinted ERITREA in blue or red. The original somali currency was also overprinted in Italian currency in black for both sets.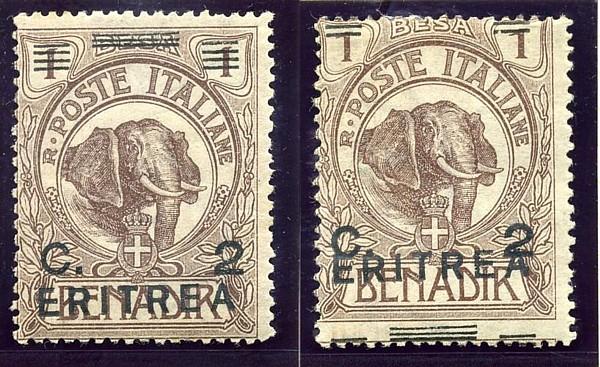 First issue 2c on 1b, with a variety where the bars, normally at the top, appear at the bottom in error.
Sassone 54 and 54c.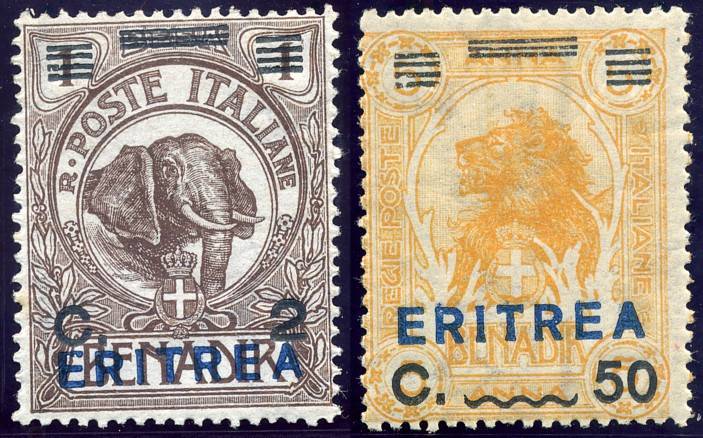 Second issue 2c on 1b and 50c on 5 anna.
Sassone 80 and 85.
---
Propoganda Fide Issue of 1923
---
25000 sets of four stamps were issued in sheets of 24. For the 20c and 30c there is a marked retouch behind the head of Jesus in position 17 on the sheet.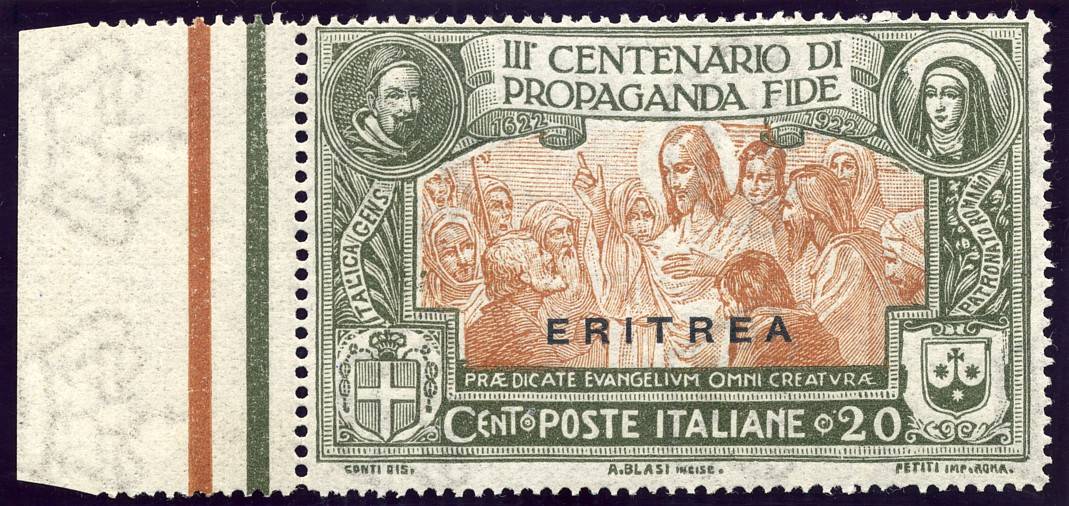 20c with retouch
Sassone 61a.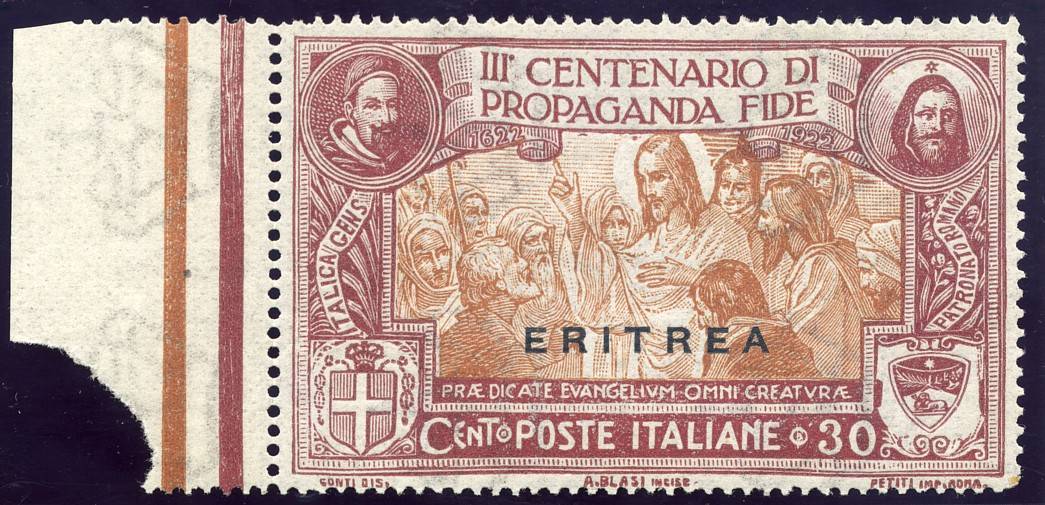 30c with retouch
Sassone 62a.
---
National Defence Issues
---
Three sets of four stamps were issued in 1927, 1929 and 1930, with differing values, perforations and style of overprint. The first issue exists with a broken I in the overprint in position 23 for the first two values and in position 10 for the second two.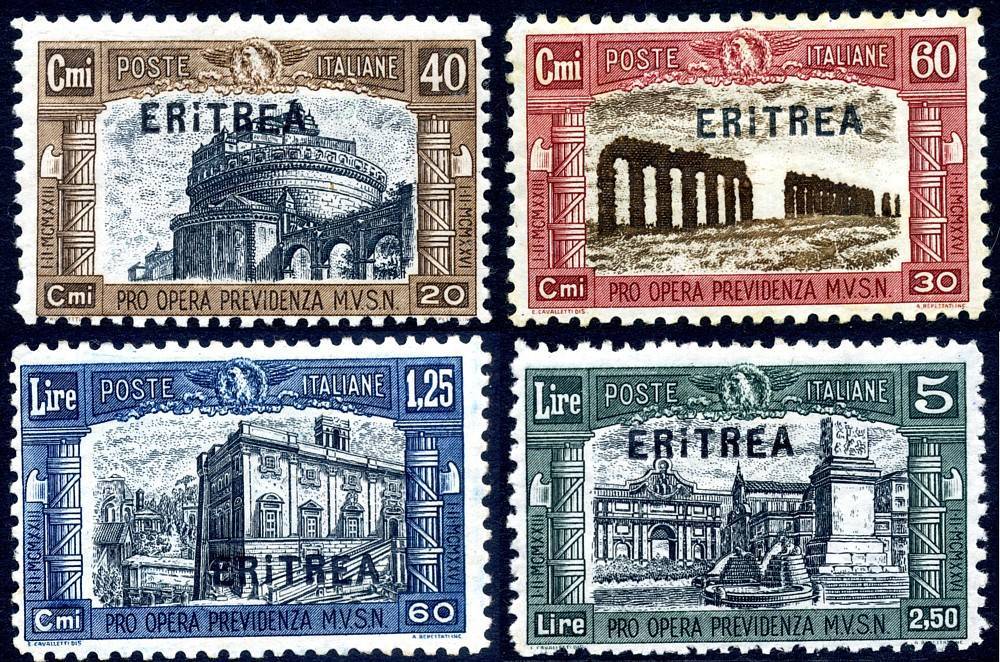 First set showing broken I in ERITREA
Sassone 116a-119a.

Detail of the overprint
Sassone 119a.
---
1927 Volta Issue
---
Three stamps were issued in 1927 in colours that differed from the issues of the Kingdom, overprinted Eritrea in black.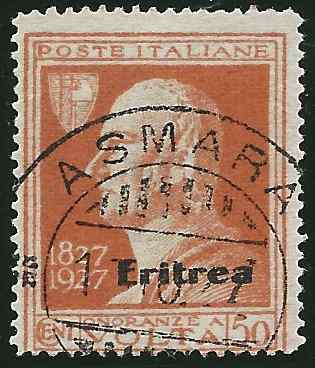 50c orange showing double overprint
Sassone 121b.
---
Express
---
Starting in 1907 Express stamps of Italy were overprinted Colonia Eritrea for use in the Colony. From 1924 a new design first issued three years earlier for Libya was introduced.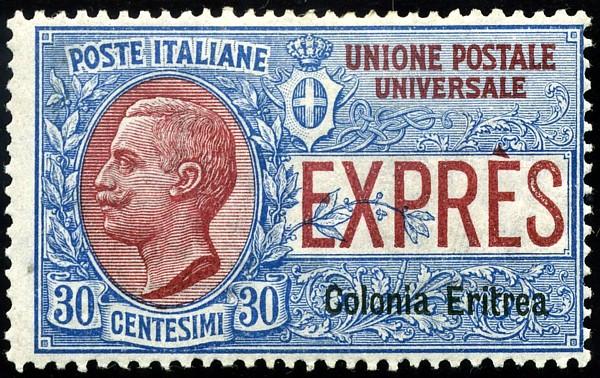 30c Express stamp for overseas mail
Issued 30 July 1909
Sassone 2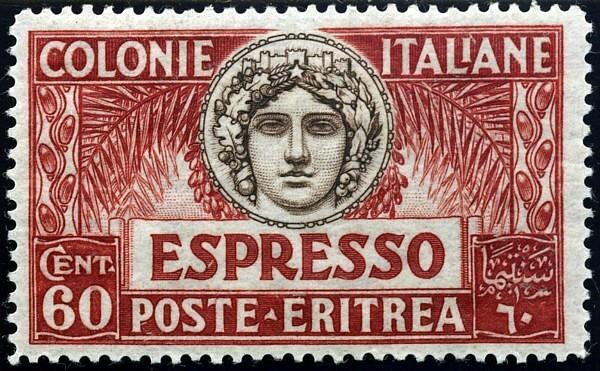 60c Express stamp for internal mail
Perf 13½, issued June 1924
Sassone 4a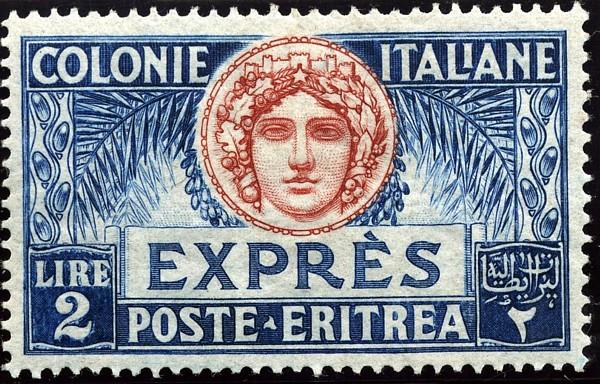 2 Lire Express stamp for external mail
Perf 14, issued June 1924
Sassone 5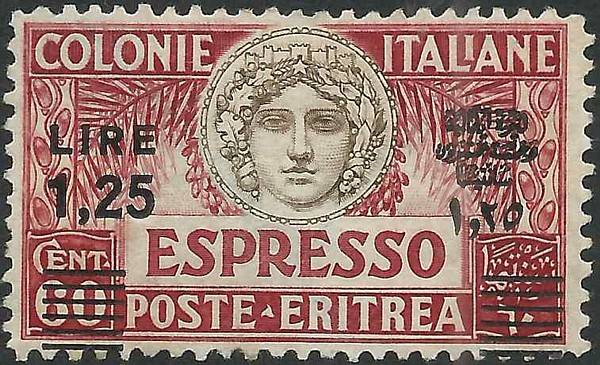 60c Express overprinted 1.25 lire in black instead of the normal dark blue
Perf 11, issued March 1935. Sassone 8
This stamp is extremely rare in unmounted mint condition. Courtesy of Italy & Colonies Study Circle
---
Recapito Autorizzato
---
The issued type has clear gum, while the more common version which was not issued in Eritrea has yellowish gum.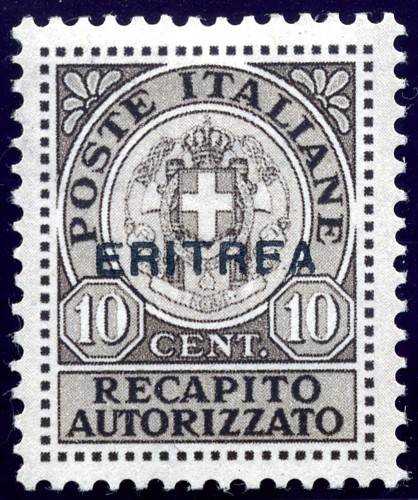 Recapito Autorizzato 10c brown, with incomplete second E (position 87)
Unissued type.
Sassone 2a.
---
Postage Due
---
In common with several other colonies, the overprint on the postage dues appears first at the top of the stamp, and then later at the bottom. Many of these issues are scarce, particularly in used condition.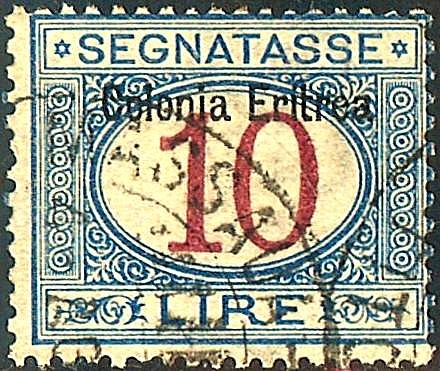 April 1903 issue, 10 lire used
Sassone 11.
Image courtesy of the Italy & Colonies Study Circle.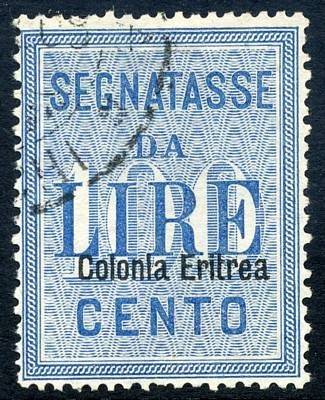 November 1903 issue, 100 lire used
Sassone 13.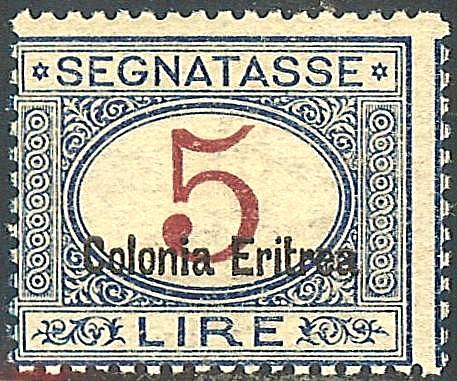 1920 issue, 5 lire mint
Sassone 23.
Image courtesy of the Italy & Colonies Study Circle.
---
Servizio Commissioni
---
For all the colonies Servizio Commissioni stamps are hard to find, especially used, and even more so the top 90c value.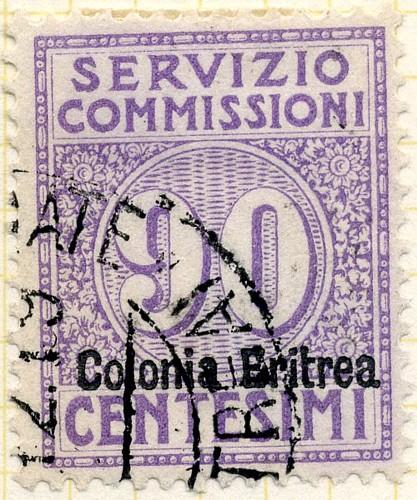 Servizio Commissioni 90c violet, used
Issued in January 1916
Sassone 3.
---
Jubaland <<-- : -->> Aegean Islands
Italian Colonies Index
Italian Stamps Home Page
---
Stamps of Italian Colonies - Eritrea
Copyright reserved by the author, Tony Clayton
v10 27th March 2017